How Long Should My Stair Runner Be?
Quick Answer: How Many Stairs do you have Plus the Riser, Multiply by 19 inches and Divide By 12, which Equals the Total Length of the Carpet Runner you will Need to Complete your Staircase.
Example: I have 12 stair treads and 13 risers12.5 stairs x 19 divided by 12 equals 19.79 ft rounded up to 20 Linear feet
You Would Need at Least 20 ft on Stair Runner!
Hi, My Name Is Keith Shannon, Owner of DirectCarpet.com I've Been a Professional Stair Runner Installer for over 25 Years and these are my best practices when it comes to Stair Runners and How to Measure for them.
How Much Carpet Do I Need for my Stair Runner?
Let's Start Out with a few Quick, Easy Stair Runner Calculations Measurements are for a straight runner staircase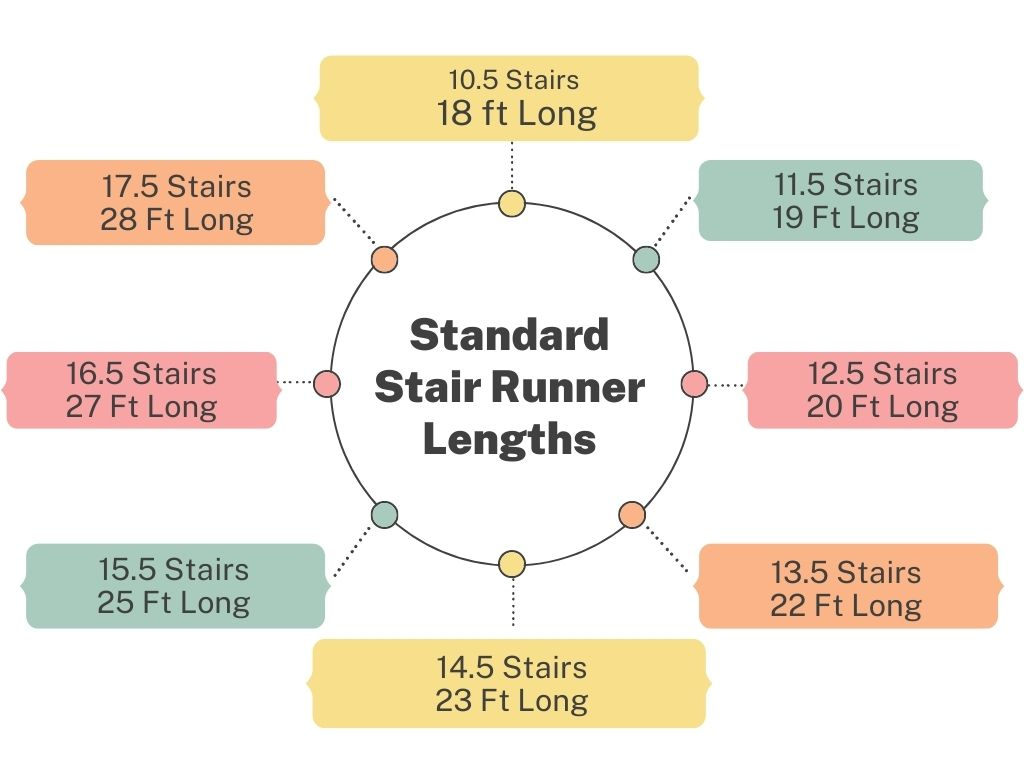 Standard Stair Runner Length
Length of Stair Runner for 10.5 stairs = 18 ft Long

Length of Stair Runner for 11.5 stairs = 19 ft Long

Length of Stair Runner for 12.5 stairs = 20 ft Long

Length of Stair Runner for 13.5 stairs = 22 ft Long

Length of Stair Runner for 14.5 stairs = 23 ft Long

Length of Stair Runner for 15.5 stairs = 25 ft Long

Length of Stair Runner for 16.5 stairs = 27 ft Long

Length of Stair Runner for 17.5 stairs = 28ft Long

 
All the Above Stair Runner Calculations were done with this simple math equation/Most Stairs
The Number of Steps on your straight staircase (including the top riser)
Multiplied by 19 inches per stair (Average Stair Length)
Divided by 12 (1 Foot)
Now, as a Rule of thumb to be safe please measure your stairs with a Measuring Tape to be sure that this stair runner measuring method works for you and your staircase to get the most accurate runner length!
Stair Runners, Stair Treads, and Stair Risers can Be Custom Sized therefore custom Measurements need to apply!
Custom Stairs can be 22 inches in length so please do your Stair Measurement Correctly so that you order the correct length of stair runner
How Wide Should My Stair Runner Be?
Stair Runners Should Be 6 to 8 Inches smaller in width than your Stairs! This way you will have enough carpet to walk on & Enough wood showing on each side!
Stair Runner Width Sizing Chart!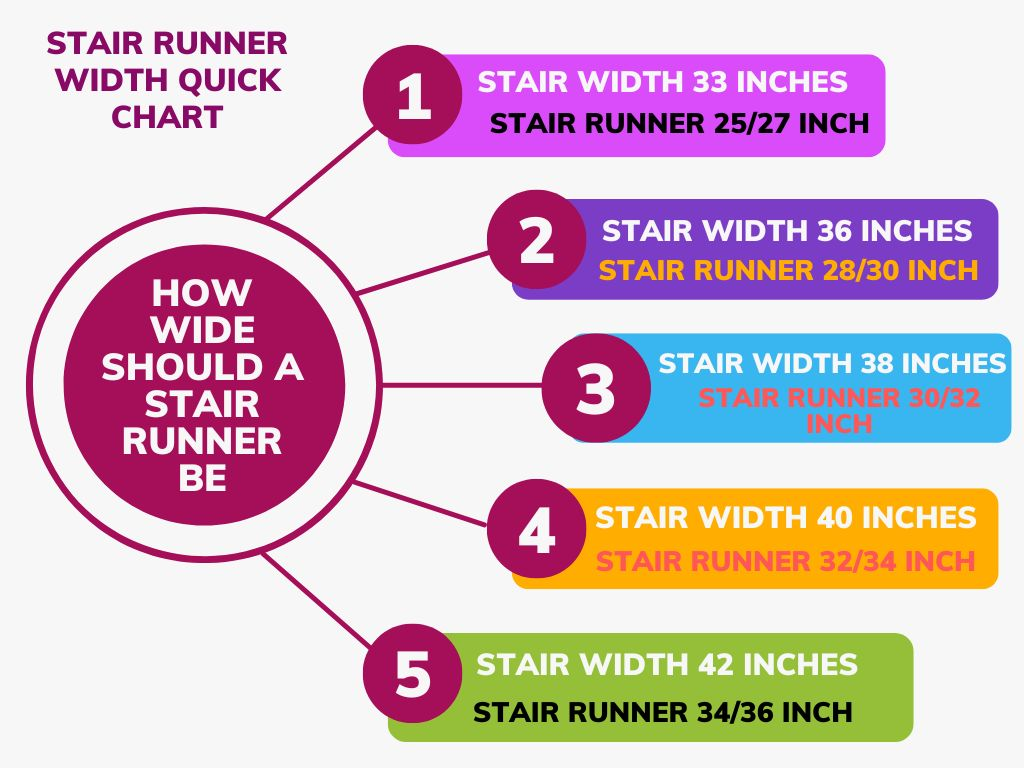 My Stairs are old! What width runner carpet should I get?
The Width of a Stair Runner is a Personal Preference! Some people's stair risers and stair treads are old and all scuffed up, they are looking for maximum coverage.
In my professional opinion stair runners should never cover the entire stair, Stairs are never straight and if you only leave a 1-inch gap showing on each side chances are it will look crooked because the separation between the stair runner and the stringer is so close.
Best Practices and the best rule of thumb for new runners!
Stair runners should have at least a 3-inch space on either side of the rug, this way if the stairs are crooked you won't notice as much and a little old wood never hurt anyone.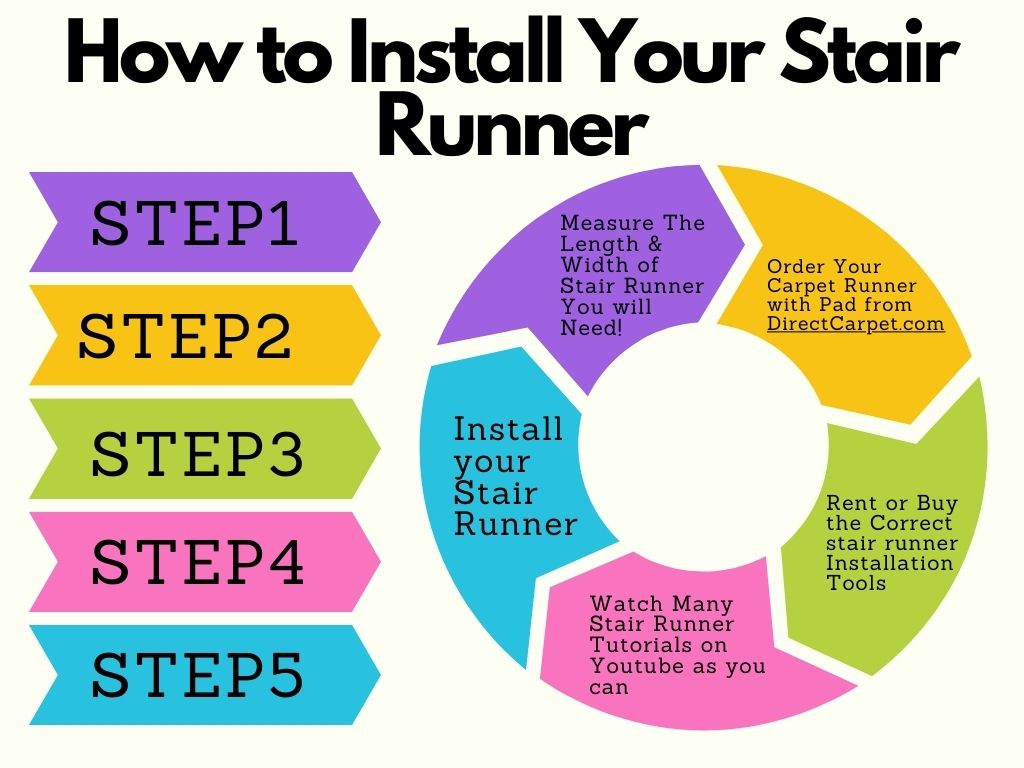 The Best Way to Install a Stair Runner
When Installing a Stair Runner do I start at the Top or the Bottom?
In North America Most Staircase Runners are Installed from the Bottom Up starting at the First Riser, the carpet runner is stapled on Bottom Riser then stapled under the first stair tread stretched or kicked towards the Next stair riser, tucked into that next stair tread and riser up under or over the next stair tread, this is repeated all the way up the staircase using a tape measure to center your stair runner.
Here are Great Resources for Installing a stair runner on a straight stairs
What is the Best Stair Runner Carpet for Straight Stairs?
The Best Carpet for a stair runner on a straight staircase is a carpet that is durable, easy to clean, and looks amazing!
Some Suggestions on this monumental question would be Nylon Carpet!
Nylon is a True tried & tested material known in the carpet world to be long-lasting good with foot traffic and of high quality, Most Nylon carpets have a stain protector on them but this eventually wears off!
P.E.T or Polyethylene is known as the easiest to clean carpet, great for pets, great for shoes and kids, not as good as nylon but they both have their pros and cons
Where can I buy a stair runner?
They,re are lots of places to buy stair runner carpets First Place that I Know for a Fact people love because of their great selection to choose from and their famous fabulous herringbone style carpets is DirectCarpet.com
DirectCarpet.com Custom Make there stair runners from many different carpets in one continuous piece and carry such brands as Anderson Tuftex Herringbone runner carpets and Mohawks Smartstrand stain proof carpets
Amazon,Etsy, Home Depot and Local Carpet Stores are other great places to buy stair runners as well!
Should I use Underlay Beneath my Staircase Runner?
100% you should use Padding or Underlay beneath your Stair runner or carpet runner.
Padding or Underlay Help carpet stabilize your runner in place, without padding, carpet runners tend to move around over time and this really messes up the backing of the carpet and the stair as well, this can also be dangerous causing slips and falls, so padding is a must for your runner!
when a carpet runner is installed over a good underlay or pad it not only feels good, It Looks Good as well,
Do your Self a favor use underlay when installing a stair runner carpet
How do I add a Stair runner landing that Turns?
Well, you have to have one made specially for your particular staircase, lets say for instance if you have a Stair landing that turns 90 degrees to the left or to the right then you need a left or a right turn landing and if this is the case you can purchase that here Stair landings
How do I finish Off my Stair Runner?
Most Runners are fitted with a bottom riser piece that is sewn on the bottom of the riser as well as a top riser which is sewn on the top of the riser so you have clean edges all around.
check out this Video on fitting a bottom riser
Best tools for installing staircase runner
The Tools Most Commonly Used to Install Stair Runner are
Electric Staple Gun w/9/16 staples

Carpet Tucker

Sharp Knife w/ Blades

Knee Kicker

Hammer
Curved Staircase Vs. Straight Stairs
Curved Staircases are a Little Different from Straight stairs, tread depth will be different, so you will need extra length of carpet so measure accordingly,
Runner Installation Methods Differ, Some install the carpet runner riser separate from the runner tread, some install the runner riser and the runner tread in one single piece,
For Instance if you are Installing a stair runner on a CS and you are choosing to use a striped runner know this! Your striped runner stripes will not line up perfectly because or the turning way of a curved staircase.
Using a Blended Carpet for your stair runner on a works great, there is no unmatching if you will, to be worried about and your stair runner will look blended
Top 25 Stair Runners for 2023
https://directcarpet.com/blogs/blog/25-stair-carpet-runner-design-ideas
Conclusion
Using these methods in this blog will help you not only figure out how much carpet you need for your stair runner it will also guide and help you through the process of buying a stair runner, the right kind of stair runner to buy, how to measure your stair runner sizing and the installation tools needed to install your Stair runner!
---